Reflecting on #OneWord17
One Word…
Last year about this time, I sat down to write my #OneWord2017.  My hashtag for 2017 was #accomplish. Reflecting on OneWord17, I intended to utilize the #accomplish in my blogs, but reviewing my 2017 posts I noticed I didn't really nail the #accomplish but I did:
Stay aware of my intended goals
Strive for accomplishments, regardless of how they were "labeled"
My reflections allow me to see what accomplishments were made in 2017:
Unread Books
While still not to the goal, I increased the number of personal books I read this year. If you're interested, here are some recommended titles:
The Coaching Habit by Michael Bungay Stanier
You are a Badass: How to Stop Doubting Your Greatness and Start Living an Awesome Life by Jen Sincero
The Life-Changing Magic of Tidying Up- the Japanese art of decluttering and organizing by Marie Kondo
The Meaning of Michelle 16 Writers on the Iconic First Lady and How Her Journey Inspires Our Own edited by Veronica Chambers
Invisible Influence the Hidden Forces that Shape Behavior by Jonah Berger (currently reading)
 The Little Green Notebook
To be honest, The Little Green Notebook turned into Post It's, more pages in the actual green notebook, notes in Google Docs, and other random notes on my iPhone. Unfortunately, the ideas continue to flourish, however, the actual construction of blogs does not.
Twitter
This too has been hit and miss for me over the past year. Somedays I'm super eager to check in to my virtual PLN and other days I decide to remain logged out.
 Chores
The continued effort to GSD, or in other words "Get Shit Done", continues to be a challenge for me. Put my feet up and turn off or GSD? In conversation with my husband on our flight home from the holidays, we discussed this continued challenge. My husband reminded me that I live by lists at work and that I thrive when I can "check something off". He reminded me that I do better when I make "me time" a priority.
The conclusion? It may be helpful for me to transfer some of my work habits to home. This year I am introducing the "Big Plans" book to my home life.
What must get done each day?
What would I like to get done?
What needs to get done, but can happen later?
I must say, this is one of my biggest accomplishments and one that continues to bring me joy each day! However, I can take no credit for it. This fall my Dad and husband made my dream a reality:
Before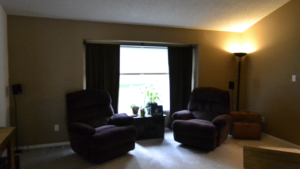 After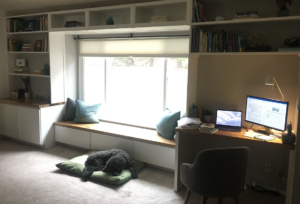 I often thought of myself as crazy for thinking a "me space" could impact my productivity and happiness. However, now I that I have the space, I must say, it matters. This space calms me. From the candle scents to being surrounded by my favorite books and having my best bud lying next to me, this space is where I love to sit and enjoy my morning coffee, check in for the day, and let my brain stop.
Where to Next
It's important to reflect, however, reflections will only impact our future actions if we do something intentional with them.
I have some ideas for 2018 and plan to share them in another post. However, I believe there is great value in taking time to celebrate your successes and consider how you might build on them, something we often forget to do. While not every #accomplish was a success for me several were and it's important to recognize them.
What accomplishments did you, or your site make in 2017? Did you take time to celebrate those successes and plan how you can continue building on them? If not, before you start planning for 2018, take time to celebrate your accomplishments in 2017!
"Every day is a new opportunity. You can build on yesterday's success or put its failures behind and start over again. That's the way life is, with a new game every day, and that's the way baseball is."
– Bob Feller